27/12/2011
Teams ready for Battle in the Tower Cup
The Tower cup sponsored by the Village Inn will be played tommorow as over 60 players join in the festive competition. First played in the summer of 1975 this historical competition was run over 2 weeks as players did battle to win the prestigious cup , presented to the club by Mrs Nellie Gilvarry. Hundreds of players went on to play for the club after making links through their involvment in this competition. Now condensed to just one day over Christmas due to the summer playing season it still draws players from far and wide, Father and son (entries, three this year) former greats, current players ansd a host of young players ready to make their mark.Good luck to All.
Tower Cup 2011
Team A
Jonny McNulty (C )
Dermott Lavelle
Lee Cummins
Eoin O Neill
Keith Higins
Colum McNally
Jonny Cuffe
Jim Ryan
Cathal Scott
Declan o Hara
Team B
David Cadden
Martin Flannery
Colin Scanlon
Mark McLoughlin
Jason Carroll
Simon Barrett
Michael Lynn
Tommy Barrett
Enda McHale
Harley Bradley
Team C
Matt Webb (c)
Darren Walsh
Richie Lynn
Eoin Bourke
Cian Noone
Brendan Lynn
Ray Lynn
Paul Noone
Fergus Tighe
Lucas Knox
Fixtures
F V C 2pm
DvA 2.30pm
E v F 3pm
BvD 3.30pm
Team D
Kevin Whyte ( C )
Danny Gallagher
Ian McNulty
Shane Whyte
Darragh O Boyle
Michael Clarke
Ivan Sweeney
Gerry Adams
Seamus Maughan
Shane Carey
Team E
Aidan Ferguson ( C )
Seamus Ryan
Stephen Hannick
Ronan Heffron
Ryan Sweeney
Niall Tomas
Michael Murphy
Noel Cadden
Daniel Jordan
Team F
Brendan McNulty ( C)
Brendan Knox
Rory Gallagher
Alan Murphy
Martin McLoughlin
Brendan Garvin
Mattie Keane
Peter McDonnell
Damien McDonnell
Malcom McDonnell
C V E 4pm
A V B 4.30pm
Semi Finals Winners Group 1 V R/Up group 2
Winners Group 2 V R/Up Group 1
4/12/2011
Christmas Hamper Givaway
There will be 5 Christmas hampers given away at the lotto draw next Monday night as an appreciation of goodwill to all who supported the lotto in 2011.With the Jackpot at €12600 get your ticket early to be in with a chance of a prize.
14/12/2011
Quarter Finals Night in MNF
Dec 19th
(1) Winner Grp 1 The Hardy Bucks v 4th Pl Gr 2 Untouchables @7pm
(2) Winner Group 2 Gallacticos v 4th Place Group 1 Athletico Killala @7.35pm
(3) 2nd Place Group 1The Gingernuts v 3rd Place Group 2 Da Nites 8.15pm
(4) 2nd Place Group 2 Ardagh v 3rd place Group The Destroyers 8.50pm
See all fixtures, Results & Tables here
11/12/2011
Results from Rd3 MNF
Athletico Killala 1 v The Destroyers 6
The Hardy bucks 3 v The Gingernuts 1
Gallacticos 5 v Da Nites 3
Team Ardagh 2 V The Untouchables 1
07/12/2011
Fixtures for next round MNF
Friday 9th Team Ardagh V Da Nites @7pm
Monday 12th Dec. Final round of group Games
Athletico Killala v The Destroyers @7pm
The Hardy bucks v The Gingernuts @ 7.35 pm
Gallacticos v Da Nites @8.15pm
Team Ardagh V The Untouchables @8.50pm
See all fixtures, Results & Tables here
06/12/2011
The Tower Cup
This years Tower Cup Tournament ( in its 36th year ) is taking place on Wednesday 28th December at Courthouse St. Names to be given to Brendan Ryan , Johnny McNulty, David Cadden or Matt Webb or email killalaafc@eircom.net before 20th December
5/12/2011
Results From Rd 2 MNF
The Gallacticos proved that last weeks win was no fluke with another 2-1 win over Team Ardagh to go top of group A. last years champions The Untouchables again tasted defeat to surprise package Da Nites . In group B The classy looking Destroyers were beaten again by the Gingernuts while the young Athletico Killala team made The Hardy bucks fight all the way for the 3 points.
Killala Gallacticos 2 V Team Ardagh 1
The Untouchables 1 V Da Nites 2
Athletico Killala 0 V The Hardybucks 3
The Destroyers 1 V The Gingernuts 5
1/12/2011
Fixtures for Next Round of MNF
Killala Gallacticos V Team Ardagh 7pm
The Untouchables V Da Nites 7.30pm
Athletico Killala V The Hardybucks 8.15pm
The Destroyers V The Gingernuts 8.50pm
See all fixtures here
29/11/2011
Results from the opening games of the Village Inn sponsored MNF league
Athletico Killala FC 0 V The Gingernuts 4 7.00pm
Killala Gallacticos 2 V The Untouchables 1 ( Defending Champions ) 7.45pm
The Hardy Bucks 8 V The Destroyers 2 8.30pm
24/11/2011
Monday Night Football is Back
The MNF Astro league spinsored by The Village Inn kicks off this Monday 28th
Athletico Killala FC V The Gingernuts @7.00pm
Killala Gallacticos V The Untouchables ( Defending Champions ) 7.45pm
The Hardy Bucks V The Destroyers 8.30pm
27/10/11
Fixtures and bus times this week
29th Oct U16 Boys away to Charlestown 1 pm KO, bus leaves at 11:45am
29th Oct U14 Boys home to Carrick Town 12:30 pm KO
29th Oct U12 Boys home to Tuam Celtic 2:30 pm KO
30th Oct U14 Girls away to Castlebar Celtic 12:00 pm KO, bus leaves at 10:30am
30th Oct Mens team home to Mulranny Utd 2 pm KO
15/10/11
U12 Boys team receive their new kit
Pictured below some squad members of the boys U12 team and their Coach Brian Coultry being presented with their new kit by Shane Donnelly of the Arch Restaurant Killala.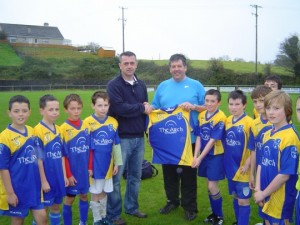 New pics of the U12 Squad now in Gallery
15/10/11
Fixtures and bus times for this weekend
16th Oct U14 Girls home to Castlebar Town KO tbc
16th Oct Mens Team home to Newport (Cup Match) 2 pm KO
05/10/11
Fixtures and bus times this week
8th Oct U18 Boys away to Snugboro 2pm KO, bus leaves at 12:30pm
8th Oct U12 Boys home to Snugboro 12:30 pm KO
8th Oct U16 Girls home to Partry Athletic 2pm KO
11/09/11
Fixtures and bus times this week
13th Sept U16 Girls away to Ballinrobe 6:30 pm KO, bus leaves at 5pm
13th Sept U12 Girls home to Manulla 6:30 pm KO
15th Sept U14 Girls home to Partry Athletic 6:30 pm KO
17th Sept U12 Boys home to Westport 12:30 pm KO (Cup)
17th Sept U14 Boys home to Castlebar Town 2 pm KO (Cup)
17th Sept U16 Girls home to Kilmurray 4 pm KO
10/09/2011
Well Done Girls
Congrats to the U13 Girls who qualified for the Connaught Girls Blitz next Saturday with a top 4 finish in Milebush Castlebar today
10/09/11
Well Done Boys
A chink of light emerged from an otherwise dull season when the U12 boys beat their Ballina B counterparts 6-1 at Belleek on Friday night. Brian Coultry and Brian McHale must be proud coaches as they watched an Alan Donnelly Hatrick Finn Lacy (2) and Darren Collins run in the 6 goals.
09/09/2011
Venue Change for Playoff
This Sundays relegation playoff has changed from Foxford to Charlestown same 3.30 KO
04/9/2011
Relegation Playoff for Mens Team
A home defeat on the last day of the season to league champions Fahy Rovers condemned Killala to a relagation play off with Ballyheane. The game takes place next Sunday in Foxford at 3.30pm and Killala , who have switched off in recent weeks thinking they were safe, will have to be at their very best to beat an experienced Ballyheane side with years of Superleague experience.
04/09/11
Fixtures and bus times this week
5th Sept U16 Boys home to Westport Utd 7 pm KO
6th Sept U14 Girls away to Conn Rangers 7 pm KO, bus leaves at 6:10pm
8th Sept U18 Boys home to Westport Utd B 7 pm KO OFF
8th Sept U14 Girls away to Castlebar Town 7 pm KO, bus leaves at 5:30pm
9th Sept U12 Boys away to Ballina Town B 7 pm KO, bus leaves at 6:15pm
10th Sept U16 Girls away to Manulla 4 pm KO, bus leaves at 2.45pm
25/08/2011
Ladies looking forward to their Date in Milebush
The Killala ladies contest their first ever senior cup final this Sunday in Milebush Park at 1.30pm. They travel to play Ballyglass ladies FC one of the most powerfull sides in Connaught at the moment and recently qualified for the Umbro/WFAI intermediate Cup Final. Last seasons double winners and currently leaders of the Mayo womens super league, they are backboned by members of this years Mayo Ladies GAA team with Cora Staunton their prolific striker scoring goals for fun.They are clear favourites to add the Blues Brothers cup to their impressive haul but the young Killala girls will hold no fear for them. This bunch of girls are no strangers to the big days either having amassed 17 titles over 6 seasons for club & School and also bring great a deal of experience to this match but with an average age of only 18 they are a bit behind their opponents. Killala will be without Eimer Feerick & Elaine Lowther through injury while Yvonne Gilroy is unavailable, Alana Naughton faces a late fitness test but travel with a good squad of 18 palyers. We wish captain Ciara McDonnell and her team all the best in what we hope is the first of many more cup finals at this level.
25/08/11 Bus times next week
29th August U16 Boys away to Partry Athletic 7 pm KO, bus leaves at 5:15pm
1st September U18 Boys away to Claremorris 7 pm KO, bus leaves at 5:20 pm
3rd September U16 Girls away to Kilmurray 2 pm KO, bus leaves at 1:05pm
3rd September U14 Girls away to Achill Rovers 2 pm KO, bus leaves at 11am
23/08/11
Fixtures and bus times this week
23rd August U16 Girls home to Castlebar Celtic 7:30 pm KO
23rd August U12 Girls away to Castlebar Celtic 6:30 pm KO, bus leaves at 5 pm
25th August U18 Boys away to Castlebar Celtic 7:30 pm KO, bus leaves at 6 pm
25th August U14 Girls home to Claremorris 7 pm KO OFF
26th August U12 Boys away to Moyvilla 7 pm KO, bus leaves at 6pm
27th August U16 Girls away to Kilmore 2 pm KO,
OFF
27th August U14 Girls home to Partry Athletic 3 pm KO
28th August Mayo Ladies Cup Final in Milebush Park 1.30pm KO
Killala FC Ladies V Ballyglass FC Ladies
28th August Junior Men away to Conn Rangers 3:30pm KO
14/08/11
Fixtures and bus times this week
15th August U16 Boys away to Straid & Foxford 7:00pm KO, bus leaves at 6:00pm
16th August U16 Girls home to Kilmore 6:30 pm KO
16th August U12 Girls home to Ballinrobe 7:30 pm KO
18th August U18 Boys away to Conn Rangers 7:30 pm KO, bus leaves at 6:40 pm
18th August U14 Girls away to Conn Rangers 6:30 pm KO, (Cars organised)
20th August Junior Men home to Clew Bay Utd 6:30pm KO
07/08/11
Fixtures and bus times this week
9th August U16 Girls away to Castlebar Celtic 7:30 pm KO, bus leaves at 6:00pm
9th August U12 Girls home to Castlebar Town 7:00 pm KO
11th August U18 Boys away to Kilmurry 7:00 pm KO, bus leaves at 6:05pm
11th August U14 Girls home to Castlebar Celtic 7:00 pm KO
12th August U12 Boys away to Claremorris 7:00pm KO, bus leaves at 5:20pm
31/07/11
Fixtures and bus times this week
1st August U16 Boys away to Westport Utd B 7:00 pm KO, bus leaves at 5:15 pm
2nd August U16 Girls home to Manulla 7:30 pm KO
2nd August U12 Girls away to Kilmore 7:00 pm KO, bus leaves at 5:15pm
4th August U18 Boys home to Snugboro 7:00 pm KO
4th August U14 Girls away to Manulla 7:00 pm KO bus leaves at 5:45pm
5th August U12 Boys home to Ballina Town B 7:00pm KO
25/07/2011
Fixtures for the Week
Monday 25th U16 Boys V Swinford Cup rd 1 Home 7.00pm KO
Thursday 28th U14 Girls Cup V Claremorris Away Bus leaves 5.15pm
Thursday 28th U18 Boys V Knock/Kiltimagh Utd Cup Rd 1 Home 7pm
Friday 29th U12 Boys V Manulla B Away Bus leaves 5.30pm
Saturday 30th U12 Girls Cup Rd1 V Manulla Away Bus leaves 12.15pm
Saturday 30th U16 Girls Cup Rd 1 V Castlebar Celtic Away Bus leaves 12.15pm
24/07/2011
Last weeks results
The U16 Boys lost their unbeaten start at home to Partry, while the U12 Girls and the U16 Girls both were beaten on the road. The Ladies had two good wins , both at home, on Thursday a 5-0 win against Ballyvarry put them into the Cup Final while on Sunday they beat Westport Utd 2-1 to keep them on track for league honours. The Mens team suffered a rare away defeat on Saturday night loosing 1-0 to Ballyheane , a result that will have them looking over their shoulders at the bottom teams over the last three games.
23/07/2011
Ladies into the Cup Final
A good 5-0 win in the semi final at home to Ballyvary booked the girls a trip to Milebush Park on Sunday 28th of August where they will play favourites Ballyglass in the decider. Goals from Aileen Gilroy (4) and Aoilean Collins gave Killala this comfortable win.
18/07/2011
Big 3 points for Mens Team
Killala put four past Snugbora Utd at Courthouse St on Sunday to move into fourth place in the Mayo premier A Division with 4 games to go. Goals from Jonny McNulty, Rory Gallagher and two from David Cadden sealed the impressive win.
17/07/2011
Fixtures For the Week
Monday 18th U16 Boys V Partry Ath. Home 7.00pm
Tuesday 19th U16 Girls V Castlebar Town Away 6.oopm Bus leaves at 4.30pm
Tuesady 19th U12 Girls V Manulla Away 7.30pm Bus Leaves at 6.15pm
Thursday 21st U18 Boys V Cornboy TBC
Thursday 21st Ladies V Ballvarry Cup Semi Final Home 7.15 pm
Saturday 23rd Mens V Ballyheane Utd Away 7pm
Sunday 24th Ladies V Westport Utd Home 12noon
Sat.23rd
17/07/2011
Good Week for The Girls
Three wins from the Girls teams were last weeks highlights, the U12 girls put 10 past a weak Conn Rangers team while the U16 Girls fought hard to defeat Ballinrobe 2-1 on Tuesday night ( Click Here For Report). On Thursday The U14 Girls did the double over Conn Rangers winning 6-0 also on Thursday the U18 Boys had a pulsating 3-3 draw with Westport Utd B. The U12 Boys finished up their regrading group going down 5-0 at Home to Manulla. In the other game the U16 Boys received
a walkover from Achill Rovers.
12/07/2011
Fixtures and bus times this week
12th July U16 Girls home to Ballinrobe 7:30 pm KO
12th July U12 Girls home to Conn Rangers 6:30 pm KO
14th July U14 Girls home to Conn Rangers 6:30 pm KO
14th July U18 Boys home to Westport Utd B 7:30 pm KO
15th July U12 Boys Home to Manulla 7:00 pm KO
17th July Men's Junior home to Snugboro Utd 2:30pm KO
05/07/2011
Under 16 Boys off to a flying start
Killala U16 boys got off to a flyer last night when they overcame a strong challenge from the visitors Straid & Foxford in a game that had everything, Goals !! Penalties !! Red cards !! and a stunning hat-trick from Man of the match Darragh O'Boyle which helped deliver a 4-2 victory for our boys much to the delight of the home fans :
read more
04/07/2011
Fixtures and bus times this week
4th July U16 Boys home to Straid & Foxford 7:00 pm
5th July U16 Girls away to Partry Athletic 7:00 pm KO, Bus leaves at 5:15 pm
5th July U12 Girls away to Claremorris 7:00 pm KO, Bus leaves at 5:20 pm
7th July U14 Girls away to Claremorris 7:00 pm KO, Bus leaves at 5:20 pm
8th July U12 Boys Home to Ballinrobe 7:00 pm
27/06/2011
Fixtures and bus times this week
29th June U15 Boys away to Kilmurray 7:00 pm KO Bus leaves at 6:05pm
1st July U12 Boys away to Westport Utd 7:30 pm KO, Bus leaves at 5:45 pm
2nd July Mens Junior Team Away to Westport Utd B 7:00 pm KO
21/06/2011
Fixtures and bus times this week
22nd June U15 Boys home to Ballinrobe 7:00 pm KO
24th June U13 Boys away to Claremorris B 7:00 pm KO, Bus leaves at 5:20 pm
25th June U13 Girls v Manulla 4:30 pm KO at Milebush Park (Cup Final) Bus leaves at 2:45pm
26th June Ladies V Ballyvarry BB Away 12noon Ko
26th June Mens Junior Team Away to Straid & Foxford 2:30 pm KO
07/06/2011
Fixtures and bus times this week
7th June U13 Boys home to Clew Bay Utd 7:00 pm KO
7th June U13 Girls away to Claremorris 7:00 pm KO, Bus leaves at 5:20 pm
10th June U13 Boys home to Manulla B 7:00 pm KO
11th June U13 Girls home to Kilmore 2:00 pm KO (Cup match)
11th June Mens Junior Team home to Conn Rangers 7:00 pm KO
27/04/2011
Fixtures for the Week
27th April U15 Boys Away to Ballinrobe Town 7.00pm KO
29th April U13 Boys Away to Clew Bay Utd 7.00pm KO Bus leaves 4.45pm
30th April U13 Girls Home To Castlebar Town 2.00pm KO
1st May Mens Touhy Cup Quarter Final Away S&F Utd KO 2.30pm
26/04/2011
Lotto at €9300
This weeks Bank Holiday Jackpot is €9300 so get your tickets early.
25/04/2011
Last weeks Results
The U13 girls got the Points when Achill Rovers failed to field a team while both U13 & U15 boys tasted defeat. The Mens Team got of the mark with their first win against Westport Utd B sealed with a trademark Giggsy hatrick while the Ladies were knocked out of the Joma cup away to Westport Utd
19/04/2011
Fixtures For The Week
Tuesday 19th U13 Girls V Achill Rovers Away 6.30pm
Wed 20th U15 Boys V Ballyglass Home 6.30pm KO
Thur.21st Ladies V Ballyglass Home 7pm
Friday 22nd U13 Boys v Ballyvarry BB Away Bus leaves 5.15pm
Sat. 23rd Men V Westport Utd B Home 6.30pm
Sunday 24th Ladies Cup V Westport Utd Away 12noon
18/04/2011
Last weeks results
The U13 Girls had a great 8-0 win at Home to Kilmore Utd , the U15 Boys suffered another setback away to Conn Rangers while on Friday the U13 Boys let a 3 -1 lead slip at home to Partry Athletic and ended up sharing the points in a 3-3 draw.Sunday was a black day for Killala Fc with The U16 Boys getting knocked out of the Connauaght Shield at the semi final stage thus ending their brave run, The Ladies are still struggling to find form and shipped a heavy defeat away to Castlebar while the Mens team suffered back to back defeats in the Premier A Division going down 3-1 to S&F Utd.
13/04/2011
Fixtures for the Week
Tuesday 12th April U13 Girls V Kilmore ( Home ) 7pm
Wednesday 13th April U15 Boys V Conn Rangers Away 6.30pmBus Leaves
5.15pm
Friday 15th April U13 Boys V Partry Athletic Home 6.30pm
Sunday 17th April U16 Boys Connaught Shield Semi Final V Corrib Celtic 2.00pm Away
Sunday 17h April Ladies V Castlebar Celtic Away 12noon
Sunday 17th April Mens V Straide & Foxford Utd Home 2.30pm
12/04/2011
U16 Boys on the Brink of making History
The U16 Boys team are just one game away from the Connaught U16 Sheild final and they will make history if they can overcome the stiff challenge of Corrib Celtic in Galway at the weekend. The Kevin Whyte & Marc McDonnell managed team have faced an uphill battle keeping their players focused for this mammoth match as they are out of season and the only games they have played since last November are in this competition while their opponents are right in the middle of their own domestic league in the Galway Premier division. The lay off doesnt seem to bother them though as they trounced Ballyglass FC 9-1 in the last round. The semi final though will be a much closer affair but with lads like Matthew Keane, Darragh O'Boyle, Eoin ONeill, Ryan Sweeney & Cian Noone back boning the side , Killala will travel with confidence. We wish them all well and hope we will be planing a Connaught Final come Monday morning.
10/04/2011
Last weeks results
The U13 Boys & Girls and the U15 Boys all were defeated last week as they struggled to make an impression in the new age group sections. Lets hope the coming week brings better luck. The mens team went down 2-0 to Fahy Rovers in a game that they were made to pay for the scorned chances and they must learn to be more clinical at this level. The Ladies drew 3-3 with defending champions Ballyglass with goals from
Aoilean Collins (2) & Alanna Naughton
07/04/2011
Mens Season Kicks Off
The Mens season kicks off this weekend when newly promoted Killala renew battle with old adversaries Fahy Rovers, relegated from the Super league, in Castlebar at 6pm Saturday . The Ladies face last years Champions Ballyglass FC at Courthouse St. in what will be a difficult task for the young Killala team.
06/04/2011
Connaught Semi Final Postponed
The U16 Connaught Shield semi final Corrib Celtic V Killala in Annaghdown Next Saturday has been postponed due to Mathew Keane & Darragh O'Boyle being involved with the Mayo U15 match V Donegal in the quarter Final of the FAI interleague series which is also due to be played in Milebush this Saturday
05/04/2011
Weekend Roundup
The ladies lost out by 2-0 in westport despite having the lions share of possesion they were made to pay for all the spurned chances when Westport Utd grabbed the 3 points with 2 secondhalf goals. Giggsy notched his first hatrick of the season when the Mens team wound up their pre season preparations with a 3-2 win over Ballyglass in Ballyglass.
04/04/2011
Killala lads shine for Mayo
Well done to Matthew Keane & Darragh O'Boyle who starred for Mayo U15 's and helped them to a 3-0 win over Athlone in the FAI interleague series on Saturday as they topped their group and qualified to play Donegal in the Quarter Finals.
04/04/2011
U10 & U8 Coaching resumes
The U8 & U10 coaching for boys 7 girls resumes this tuesday 7pm to 8pm at Courthouse St. for those born 2002 and after.All are welcome.
04/04/2011
All Girls Easter Soccer Camp
There will be an all girls soccer camp on the All weather pitch from 19th -21st April for girls 6 to 13 years old. Come along and join in the fun. For details and registration form contact Ciara , killalaafc@eircom.net.
02/04/2011
Youth Season gets underway
The young boys and girls get their season off to a start next week with the following fixtures
U13 Girls Tues 5th April away to Manulla, kick off time 6:30pm Coach departing Killala Pitch at 5:15 pm sharp.
U13 Boys Fri 9th April away to Castlebar Town, kick off time 6:30pm Coach departing Killala Pitch at 5 pm sharp. 
U15 Boys Wed 6th April 6.30 KO Home to Claremorris 
01/04/2011
Weekend Fixtures
The mens team travel to Ballyglass for their final warm up game before the league kicks off while the womens team go to Westport in search of 3 league points. Good luck to both squads.
Aviva Draw Winners
Eight prize winners win 2 premium level tickets to the following matches
1st Prize Chris Coffey Ireland V Macedonia 26/03/11
2nd Prize Niall Wall Ireland V Slovakia 2/09/11
3rd Prize John Conway Ireland V Armenia 11/10/11
4th Prize Finola McDonnell Ireland V Northern Ireland 24/05/11
5th Prize Shane Gilvarry Ireland V Scotland 29/05/11
6th Prize Patricia Munnelly Ireland v Uruguay 29/03/11
7th Prize John Fallon Scotland V Wales 25/05/11
8th Prize Matt Varley Wales V Northern Ireland 27/05/11
All winners will receive their tickets 10 days before each game. Call Peter on 0872754392 for details.
20/03/2011
Goals Galore at the Weekend
When Groundsman Ray Munnelly fitted a new set of goal nets last Friday litle did he know that when he came in on Monday that they would nearly be worn out, first up on Saturday the U16 boys beat Ballyglass 9-2 to march into the last 4 of the Connaught Sheild with goals from Darragh O'Boyle 3 Mathew Keane (5) and Simon Helly (2) , on Sunday morning in the Womens Premier match Killala put 18 past a weak Ballinrobe Town side with goals from Alanna Naughton (5) Aoilean Collins (3) Aileen Gilroy (4) Graine McHale (2) Ailish Healy (2) Niamh Collins & Sorcha McGee while the Mens team beat MoyVilla 5-0 with goals from David Cadden , Marc McDonnell, Colin Scanlon (2) and Richard Lynn.
18/03/2011
Pre-Season Friendly
The mens team continue their preparations for the new season when they host Moy Villa FC , last years conquerers in the Tonra Cup Final, at Asahi Park this Sunday at 1pm.
17/03/2011
Connaught Quarter Final for U16 Boys
Good luck to the U16 boys who play their last 8 Connaught Shield game at Home this Saturday at 2pm. Good luck to Kevin Whyte and Marc McDonnell and all the squad . Come out to support the lads
16/03/2011
Ladies Season Kicks Off
The Killala Womens team are back in action on sunday when they begin their Premier League campaign when they entertain Ballinrobe Town at Courthouse st. with a 12pm start. We wish them all the best for the season.
13/03/2011
Pre Season Preparations Continue
The Mens team traveled out to Drom, home of Kilmore Utd to take on the local side in a friendly as they prepare for life in the Premier A division. On a gusty and hail swept day Killala went behind to an early Kilmore goal but Alan Murphy equalised before Rory Gallagher opened his 2011 account with the winner to keep preparations for Mark McLoughlin and his team firmly on track.
11/03/2011
Lotto At €8500
This weeks Jackpot is €8500 get your ticket from any member locally or play online here
07/03/2011
Mens Team Back in Action
The Mens team played out a 2-2 draw with neighbours Ballina Utd as they began the first of a series of Pre Season friendlies. Alan Murphy & Jonny McNulty were the scorers while the cross bar prevented last years Golden Boot winner Rory Gallagher from getting off the mark as he struck it from the penalty spot. Mark McLoughlin looked at a few new players and welcomed back a couple of old ones as he prepares for life in the Premier League.
06/03/011
Killala Players doing the Business
It was a good week for Killala players on representitive duty, Last weekend Emma Munnelly, Meagan Bilbow and Alison Munnelly all helped the Mayo U13 Emerging talent programm defeat their Galway counterparts in Mervue, while both Darragh O'Boyle & Mathew Keane both started for Mayo U15′s in Longford where they beat the local side, Shane McAndrew was with the Mayo U13 Squad while Aileen Gilroy was in Dublin training with the U19 Irish Womens team, Well done to them all.
03/03/2011
Aviva Draw
The Killala Fc Annual Fund raising Draw is now in full swing and tickets are available from any club member.Be in with a chance to win 2 premium tickets for 8 International Games at the new Aviva Stadium. Thats only €10 for 8 draws, great value , so support your local club now .Tickets can be bought online , email killalaafc@eircom.net for details.
02/03/2011
Boys Training Commences
Boys Born in 1999, 2000 & 2001 are back training this Tuesday and every Tuesday at 6pm in Courthouse St. All Training times can be seen .……here
22/02/2011
Killala AFC Celebrates 2010
The largest attendance ever at a Killala FC Annual Awards night turned out at the Wolf Dog Tavern on Saturday 19th February to celebrate the magnificent achievements of the club on the field of play in 2010. Guests of Honour Cathy Jennings Chairperson of Mayo Womens FA, Michael Jennings Secretary Mayo Womens FA and Padraic McHale Chairman Mayo AFL, presented the U14 Boys with the Div. 3 trophy & Medals, The U17 Ladies with the Mayo U17 League Cup & Medals and the men's team with the Mayo Division 1 Cup & Medals. The U12 Girls received their Premier division Runners Up medals as did the U13 boys their runners up medals. The other main award winners on the night were:
Player of the Year went to the following:
U12 Boys Cian McHale
U12 Girls Allison Munnelly
U13 Boys Keith Higgins
U13 Girls Meghan Bilbow
U14 Boys Darragh O'Boyle
U14 Girls Jacinta Munnelly
U15 Boys Matthew Keane
U15 Girls Grainne McHale & Aoillean Collins ( Shared )
U16 boys Eoin O'Neill
U16 Girls Ailish Healy
U17 Ladies Niamh Collins
Players Player Of the Year Mens Rory Gallagher
Supporters Player of The year / Web Poll Rory Gallagher
Player of the year Oliver Clarke
Golden Boot Rory Gallagher
Special Merit Award Sorcha McGee
Appreciation Award Ray Munnelly
Acheivment Award Aileen Gilroy
21/02/2011
Changes in the Age Groups for the Underage Structure
The FAI at its AGM of 2010 introduced a new rule which will align our Leagues with the rest of Europe. This effectively means that all age groups will move forward by one year. There was confusion over whether this would be implemented for this season or not. While it has delayed the league, they have been working in the background to ensure that when the decision was made, they could implement this rule change as quickly and seamlessly as possible.
This new rule gave them the opportunity to have a look at our structures and to make required changes. In order to effect the changes they are commencing our league with U 17, U15 and U13
This is not as radical as it may seem as this would equate to them organising U12, U14 and U16 if the rule did not change. It also gives us continuity in that the same players will play in the same age sections on the same night as traditionally played e.g. The U13s will play on a Friday night which would be the same as the U12 playing on a Friday if the rule was not changed.
The even age groups will now commence in July and should be concluded by mid September. This should allow these age groups to continue straight into the Connaught and SFAI Cups in the boys divisions
It will be important that we identify the age groups by their birth year as in chart below.
U10 Born 2002 or after
U11 Born 2001
U12 Born 2000
U13 1999
U14 1998
U15 1997
U16 1996
U17 1995
U18 1994
Anyone who is not sure what age group they should be in can contact Secretary Peter McDonnell o872754392 for clarification. Training has commenced for some age groups and the times can be accessed via the Training Times Tab on the left hand column.
19/02/2011
Last Chance to Vote
The Poll for Supporters Player of the year closes at 7.30pm this evening so click on Polls in the left hand column and cast your vote now.
13/02/2011
Well Done Boys
Congratulations goes to Darragh O'Boyle on his starring debut for Mayo U15 team in their 1-0 win over Galway at the weekend. Clubmate Matthew Keane was also in the squad as the Mayo side had a winning start to their campaign.
11/02/2001
Daunting Task for U14 Boys
The Killala U14 Boys make the trip to Westport next Saturday to play local side Westport United in the Connaught Cup Quarter Finals. The recently crowned Division 3 champions wont be overawed by their Premier division opponents and we wish them well as they seek out a place in the provincial semi final.
08/02/2011
On Mayo Squad
Good luck to Killala FC U16 Players Matthew Keane & Darragh O Boyle who have been selected for the Mayo Under 15 Squad that will compete in the FAI interleague series. The first game , against Galway , will be this Saturday in Milebush Park, Castlebar. 2pm KO. We wish them good luck .
07/02/2011
Vote for your Favourite Player
For the first time ever, Killala AFC will have a " Supporters Player of the Year" award at the Annual Presentation. To vote in this all you have to do is go to the"polls" button on the left hand of this screen and vote for your favourite player of the 2010 season in which Killala FC won the Division 1 title , their first for 25years. or you can click here now to vote
06/02/2011
Celebration Night
Killala FC will celebrate a hugely successful 2010 season when they hold there Annual Awards night in the Wolf Dog Tavern, Killala on Saturday the 19th February. A large turnout is again expected so get you tickets early. Music is by Peter Carden and Hot Buffet will be served.
25/01/11
Training Resumes
The Mens team started Preseason training on Sunday last and will continue on Tuesday Night 8.30pm at Courthouse St. Fridays at 8.30pm Courthouse St. and Sundays 12 noon at the Asahi Pitch. The Ladies start Pre season training this Friday at Courthouse St, 8pm to 9pm. They will be joined by the U16 & U17 Girls Teams
24/01/2011
Big Turnout at AGM
There was a large gathering at Courthouse St. last Saturday evening as 2010 was reviewed as one of the most successful years in the clubs 35 year history. Outgoing Chairman Anthony Gallagher was re elected the Chairman to guide the club into the new season , John Munnelly Vice Chaiman, Peter McDonnell Secretary, Marc McDonnell Ass. secretary , Aidan Sweeney tresurer, Ivan sweeney PRO ,Jarlath Munnelly Child Protection Officer and Ian O Boyle Junior registrar and Lorraine Munnelly Youth registrar and Ladies Liason Officer . Full Report of AGM to follow.
17/01/11
A.G.M this Saturday
The AGM of the club will be held this Saturday 22nd January at 6pm in the Clubhouse . Everyone welcome.
16/01/11
Golden Goal decides Exciting MNF Final
The lead changed hands four times in a pulsating final of the Village Inn sponsored Monday Night Football between Killala and the Untouchables. A goal by the Untouchables then made it 4-4 deep into time added on and extra time loomed. Two minutes in The Untouchables struck again and thus via the Golden Goal brought the very successful 2010 tournament to an end. See photos from the Final and presentation ….here. Deel Rovers United beat AOW to finish 3rd & 4th Lacken 5th The legends 6th , The Coastgaurd 7th and Bio Labs got the wooden spoon place. Well done to all the competing teams for such a successful tournament.
12/01/11
Award for Aileen
Killala ladies player and Republic of Ireland International Aileen Gilroy has picked up another award, this time it is the Western People Ivan Neill Young Sports Star of the Year Award. Congrats to Aileen on bring further honour to herself and the club. She will receive the award at the Western People Awards Dinner at the end of February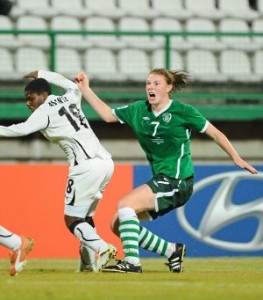 10/01/11
Final Pairing Decided
An exciting penultimate round of the Village Inn sponsored Monday Night Football tournament saw favourites The Untouchables beat AOW 7-0 to power into the final while Killala and Deel Rovers Utd played out a more tightly fought game with the Killala lads coming out on top by the odd goal in three. The Final will take place this Friday night at 9pm when The Untouchables play Killala who they beat 5-1 in the group stages , 3rd/4th place play off is at 8pm and its Deel Rovers V AOW and at 7pm The Legends play Lacken . The Coastgaurd and The Bio labs finished 7th and 8th respectively. The Presentation of the Cup and prizes will take place at 10pm in The Village Inn.
06/01/11
MNF Semi Finals Fixtures
Placing Semi Finals
6.30 The Coastgaurd v Lacken
7.15 The Legends V Bio Labs
MNF Semi Final
8.00 The Untouchables V AOW
8.45 Deel Rovers United V Killala
04/01/11
MNF set to return
The Semi Finals of the MNF tournament are set for next Monday 10th Jan.
02/01/11
Date set for A.G.M
Saturday 22nd January at 6pm is the date for the AGM of the club. All members , Parents and supporters are invited to attend. Any one with new ideas, new proposals or changes are invited to submit them to the Secretary, Peter McDonnell, Leadymore, Killala before this date. Also anyone interested in helping out in any way can give their details to any club official. So put this date in your diary and come along on the night.
31/12/10
Clubhouse Closed due to Frost Damage
A Burst pipe discovered during the big thaw has caused extensive water damage at the Clubhouse in Courthouse St. The cost of repair for all the damage is substantial and the clubhouse will remained closed until further notice.
22/12.10
Christmas Hamper Winners
Hamper Winners in the Lotto Draw Givaway
Kevin Mc Donnell
Declan Murphy
Owen Farrell
Noreen Whyte
Wolf Dog Tavern Syndicate
Killala AFC would like to thank all its lotto players, sellers and checkers for their support and help during the year.
Wishing them a Happy Christmas and Prosperous new year.
19/12/10
MNF Semi Finals Off
Tonights MNF matches are off due to to deep layer of snow sitting on top of the Astro turf pitch. They will be refixed after the holidays.
16/12/10
Christmas Hamper Givaway
The Lotto Committee are giving away 5 Christmas Hampers this Monday as an appreciation for all support from lotto players throughout the year. The jackpot is €7400 so get your tickets in or play on line now.
13/12/10
Results From MNF Quarter Finals
6.30pm The Untouchables 3 V The Coastgaurd 0
7.15 pm The Legends 2 V Deel Rovers Utd 3
8.00pm Killala FC 3 V Bio Labs 0
8.45pm Lacken 0V A.O.W 5
13/12/10
Curtain drawn on Long Season
The mens season came to an end on Sunday as Killala were knocked out of the Connaught Cup by Ballyhaunis Town. A rusty looking home side gave away two bad goals and failed to capitalise on numerous chances including a rare missed Rory Gallagher penalty and bowed out on a 2-1 scoreline .…read more
11/12/10
Quarter Finals spot for U14 Boys
The U14 boys beat Calry Bohs ( Sligo) 1-0 with a Kyle McLoughlin goal midway through the second half in a keenly fought match at Courthouse St. to enter into the last eight of the U14 Connaught Cup for the first time in the clubs history, they now join the U16 Boys who are at the same stage in the U16 Shield …..see here for report
In the U12 Connaught Shield match played earlier in the day the young Killala lads were outclassed and outscored by the neighbours from across the bay, Enniscrone/Kilglass Utd managed by former Killala player , Eddie Munnelly , Seaview Tce.
10/12/2010
Looking good for Monday Night Football
It looks like we will finally get the Quarter Finals played this Monday, lets hope the weather holds out. The fixtures are :
MNF Quarter Finals this Monday night
6.30pm The Untouchables V The Coastgaurd
7.15 pm The Legends V Deel Rovers Utd
8.00pm Killala FC V Bio Labs
8.45pm Lacken V A.O.W
All Games 15 mins a side 5 mins sudden death Extra time if a draw then Penalties
09/12/2010
Killala Girls on Team of The Year
Congratulations to Emma Loughney & Aoife Munnelly who were named on the Mayo Womens League U17 Team of The Year recently. This is a great personal achievement for them and they bring great honour to the club. Despite being the top team at their level and winning the U17 Title this season, Killala strangely only got these two players on the team even though they had several other strong candidates. The girls will receive their awards at The Mayo Womens League Function this Friday night in The Squeeling Pig , Ballyglass.
08/12/10
Football Resumes this weekend
The big thaw has resulted in the Connaught competitions resuming this weekend. The Fixtures are :
Sat. 11th Killala V Enniscrone/Kilglass Home U12 Connauhgt Shield 12noon
Sat.11th Killala V Calry Bohs Home U14 Connaught Cup 2.00pm KO
Sunday 12th Killala V Ballyhaunis Town Home Connaught Cup 2.00pm KO
06/12/10
MNF Games Off
All tonights rearranged last eight matches are off due to a section of the pitch which is still frozen and dangerous. It is hoped that we can finally get them played next Monday.
3/12/2010
MNF Games to go ahead Weather Permitting
MNF Quarter Finals this Monday night
6.30pm The Untouchables V The Coastgaurd
7.15 pm The Legends V Deel Rovers Utd
8.00pm Killala FC V Bio Labs
8.45pm Lacken V A.O.W
All Games 15 mins a side 5 mins sudden death Extra time if a draw then Penalties
29/11/2010
Another Hatrick for" Giggsy"
Rory Gallagher picked up a hatrick of awards at the Annual Mayo AFL Presentation Dinner in the Welcome Inn on Friday night. He was awarded the Golden Boot for Division One, Footballer of the Year in Division One and was also named on the Division One Team Of The Year. Other Killala Players to be honoured were Sean McHale, Eamon Knox & Jonathan McNulty also named on the Team of the Year, whileAileen Gilroy picked up an Appreciation Award for her role with the Irish U17 Womens Team at the World Cup, While Chairman Anthony Gallagher picked up the Club of the Month ( May) Award for Killala FC. Well Done to All involved, for bringing these honours to yourselves and the club. Pictures now available to view in our gallery
29/11/2010
MNF Games Off
The Weather has called a halt to tonites Quarter Final fixtures at Killala Fc MNF Tournament . They will be played next Monday at the same times.
26/11/10
U16 Boys move on
The U16 boys qualified for the Connaught Shield Quarter finals with a resounding 5-1 win at Courthouse Street when they over came Dromore Villa ( Sligo ) 5-1. The homeside recovered from going 1-0 down early on with goals from Darragh OBoyle (2) Simon Helly (2) and Mathew Keane to set up a home tie in the New Year
26/11/10
MNF Quarter Finals this Monday night
6.30pm The Untouchables V The Coastgaurd
7.15 pm The Legends V Deel Rovers Utd
8.00pm Killala FC V Bio Labs
8.45pm Lacken V A.O.W
All Games 15 mins a side 5 mins sudden death Extra time if a draw then Penalties
26/11/10
Matches off
Todays U14 & U12 Matches in Sligo have been postponed due to snow covered pitches
24/11/10
Weekend Fixtures
U12 Connaught Sheild Sat 27th Nov. Killala V Enniscrone / Killglass Away 11am KO Bus leaves at 10am
U14 Connaught Cup Killala V Calry Bohs Away Sat. 27th Nov 12noon KO Bus Leaves @10.15am
U16 Connaught Shield Killala V Dromore Villa Sat27th Courthouse St. 3pm KO
22/11/10
Results From Monday Night Football Rd 3
The Old Legends 7 Coastgaurd 2
Bio Labs 0 A.O.W 3
Lacken 3 Deel Rovers 1
Killala 1 The Untouchables 5
21/11/10
CHAMPIONS!
The U17 Women lifted the League Cup in Manulla today with a comprehensive victory over the home side. First half goals from Aileen Gilroy (2) and Jacinta Munnelly put them into a commanding lead by half time and they never looked like losing as Manulla failed to trouble the Killala goal in the second period……read more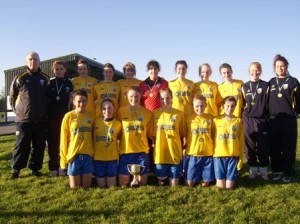 20/11/10
Killala Girls face stern test
The U17 Women travel to Manulla this Sunday (12 noon ) to play the local side in the womens Cup Final. Manulla FC are the holders and are unbeaten in this competition to date and will prove a big test for a Killala side without the injured playmaker Elaine Lowther and left wingerEmma Loughney, but Killala also are unbeaten so a cracker of a game is in store. We wish Peter, Stephen , Ciara and all the squad , the best of luck.
19/11/10
Lotto Jackpot reaches €7000
This weeks jackpot is €7000. Support KillalaFC by buying a ticket locally or on line now.
16/11/10
Results From Monday Night Football Rd 2
6.30 Killala 5 – 2 Deel Rovers
7.15 Lacken 3 – 5 Untouchables
8.00 Bio Labs 4 – 2 Killala Coastguards
8.45 A.O.W. 3 – 4 The Legends
See Tables and fixtures .………here
14/11/10
Girls through to Cup Final
The U17 Womens team qualified for the Cup Final with laboured 3-1 win over Kilmore Utd at Courthouse St. today. Aileen Gilroy (2) and Alanna Naughton scored the goals that put them into the final where they will play holders Manulla at 12noon in Manulla next Sunday.
14/11/10
Killala get 4 players on Divisision 1 Team of the Year
Congratulations to Eamon Knox, Sean McHale, Rory Gallagher and Jonathan McNulty on been named on the Division 1 Team of the Year. They have brought great honour to the club and their families and it is great to recieve this accolade after years of service with the club. They will receive their awards at the MAFL Dinner on the 26th November in the Welcome Inn Castlebar. Full Team is
Sean McHale Killala FC
Darren Coleman Conn Rangers
Eamon Knox Killala Fc
Noel Butler ConnRangers
Stephen McNulty Achill Rovers
John Judge Moy Villa
Charlie O'Donnell Mullranny Utd
Joe Faughnan Conn Rangers
John Durkan Moy Villa
Rory Gallagher Killala FC
Jonathan McNulty Killala FC
13/11/10
Killala FC named Mayo Club of the Month for May
The Mayo Association Football League have named the following Clubs as winners of the Club of the month awards for the season 2010.They will be presented with their awards at the Mayo League Presentation Dinner Dance that will be held in the Welcome Inn Hotel on Friday night 26th November at 9pm. Guest of Honour will John Delaney CEO Football Association of Ireland. April Mulrany Utd, May Killala FC, June Ballyhaunis Town, July Claremorris Town, August Charlestown FC, September Ballina Town, October Straide & Foxford Utd
12/11/10
This Weeks Monday Night Football Fixtures
Killala FC v Deel Rovers Utd 6.30pm
The Untouchables V Lacken 7.15pm
Bio Labs V Coastgaurd 8.00pm
The Old Legends V A.O.W 8.45pm
11/11/10
U17 Womens Cup Semi-Final
Killala host Kilmore Utd in the U17 Womens League Cup Semi Final on Sunday at 12noon at Courthouse St. Kilmore will be stern opponents having just finished a successful season in the Mayo Schoolgirls U16 league and having a great run in the WFAI Cup. The Killala Girls tho are unbeaten in the competion to date and will be hoping for a good performance to book their place in the decider. We wish Peter, Stephen , Ciara and all the squad the best of luck.
08/11/10
Results from The Monday Night Football League
The Old Legends beat Bio labs 5-1 in the first game of the night and George Armstrong's men look a good tip to go all the way. Killala came out on top in the derby match ending up 8-1 winners over Lacken in a game that was much tighter than the scoreline suggests , Deel Rovers Utd and The Untouchables played out a thrilling 4-4 draw in the last game of the night, and the Crossmolina V A.O.W game was not played.
05/11/10
Monday Night Football at Killala FC Allweather Pitch
The Village Inn Sponsored Monday Night Football League kicks off this Monday with 9 teams ready to do battle. Tie of the night promises to be the Lacken V Killala clash where alot of old friends will be renunited
This Weeks fixtures are
Bio labs V The Legends 6.30pm
A.O.W V Crossmollina 7.15pm
KillalaFC V Lacken Boys 8.00pm
Deel Rovers Utd V Untouchables 8.45pm
Killala Coast Guard Bye
02/11/10
On InterPro Squad
Good Luck to Killala FC ladies player Aoillean Collins who travels with the Connaught U15 team to Tullamore this Friday to play Leinster in the Schools Interprovincial organised by the FAIS . The game kicks off in Leah Park Tullamore at 3pm with the other matches taking place in Athlone over the weekend. We wish her well …….. read more
31/10/10
Killala Ladies qualify for League Cup Semi
Killala U17 women topped their group and qualified for the U17 Womens League Cup semi Final when they defeated Kilmore Utd 6-1 at Courthouse St. on Sunday morning. Goals from Aileen Gilroy, Aoilean Collins, Niamh Collins and an Alanna Naughton hatrick put them into the next round where the will meet the Winners of Kilmore /Ballyglass on Sunday 14th November at Courthouse St.
29/10/10
Weekend Fixtures
U17 Girls V Kilmore Utd Home Sunday 31st Nov, 12noon KO
25/10/10
No Joy for any Team this Weekend.
It was a blank weekend on the victory front for Killala teams in National competition. On Saturday the U15 Boys went down heavily in Mervue ( Galway) in the SFAI U15 Cup , while the Mens team lost to Ballyheane Utd 2-0 in the FAI Junior Cup at Pat Quigley Park. The U13 travelled to Athlone on the Bank Holiday and were defeated 5-0 by Willow Park in the SFAI U13 Cup.
21/10/10
Bank Holiday Lotto Jackpot at €6600
Get your ticket now for the Halloween Jackpot of €6,600. Its easy to play online . just click the the box in the top right of this page for a chance to win. Team I are on selling duty this weekend.
20/10/10
Weekend fixtures
U 15 SFAI Cup Killala V Mervue (Galway) Away Sat. 23rd 2pm KO Bus Leaves at 10.45 am
FAI Junior Cup RD 2 Killala V Ballyheane Utd Away Sat. 23rd 4.30pm KO
U13 SFAI Cup rd 2 Killala V Willow Park ( Athlone ) Away Monday 25th 2.00pm KO Bus leaves at 10.45 am
17/10/10
Easy win for U17 Girls
Killala coasted to an easy win in Celtic Park on Sunday morning. Leading 2- 0 at halftime the floodgates opened in the second half and goals front pair Aileen Gilroy (5) and Aoilean Collins (4) gave them a 9-0 victory and keeps them top of their group.
16/10/10
U14 Boys hold their nerve to win the Shootout
The U14 Boys advanced to Rd 3 of the Connaught Cup after an exciting game against Willow Park ( Athlone ) at Courthouse St on Saturday. After going 2 nil down early on goals from Kevin Healy (2) and Ciaran Lally saw the homeside secure a 3-3 draw and went on to win the shootout 4-2 …read more
16/10/10
U16 Boys Advance in the Connaught Sheild
The U16 Boys had a fine 2-1 win in the Connaught Sheild against old rivals Ballina Town at Courthouse St . on Saturday morning. Goals fromSimon Helly & Mathew Keane put their team through to the next round.
11/10/10
U17 Girls going well
The U17 girls continued their good start with a solid 2-0 win away to Kilmore Utd at Drom. Ailleen Gilroy got both the goals in this hard fought victory
10/10/10
Good win for Boys in U13 SFAI Cup
Killala beat Castlebar Town 4-3 in the U13 SFAI cup away at Moneen on Saturday. Goals by David Lawlor, Kevin Healy (2) and Anthony Kearney saw the winners advance to Rd 2…read more
7/10/2010
Congrats to Shane
Well done to Killala U14 star Shane McAndrew on being selected for the Mayo U13 FAI Emerging talent. We wish him well in his endeavors for the coming season. Shane was a member of the successful U13 & U14 Killala sides this Summer.
6/10/10
Next on the list
Saturday 9th Oct. SFAI U13 Cup V Castlebar Town Away 2pm KO Bus leaves at 12.30
Sunday 10th Oct U17 Womens league V Kilmore Utd Away 12noon KO Bus leaves at 10.30 am
5/10/10
Lotto jackpot €6400
This weeks Lotto is at €6400 . Team G are on selling duty. Get your tickets online or locally.
25/09/10
Limited Success For Killala AFC Youths in the Connaught Cup
The under 14 boys got the day of to a perfect start for Killala AFC with a 5-0 home defeat of Achill Rovers in the Connacht Cup Unfortunately there result could not be emulated by the U16 boys who lost at home to Kiltimagh/Knock and the U12 boys who went out away to Castlebar Celtic but the U16′s & the U12′s will hope for better days in the shields as the U14′s march forward in the Cup. Click on this link for U14′s full match report
21/09/10
Next on the list
Saturday 25th Sept. U12 Conn Cup V Castlebar Celtic Away 2pm KO Bus leaves at 12.30
Saturday 25th Sept U14 Conn.Cup V Achill Rovers Home 12noon Ko
Saturday 25th Sept U16 Conn Cup V Knock/Kiltimagh Utd Home 2pm KO
Sunday 26th Sept U17 Girls league V Castlebar Celtic Home 12noon KO
Sunday 26th Sept Mens Conn. Cup V KC Celtic ( Roscommon League ) Home 2pm KO
20/09/10
U16 Boys Sign off with a win
The U16 boys completed their home league programme with a solid 4-1 victory over Castlebar Town on Monday evening. A Darragh O'Boylehatrick and one from Ryan Sweeny left the home side finishing on a high note.
20/09/10
Welcome home Aileen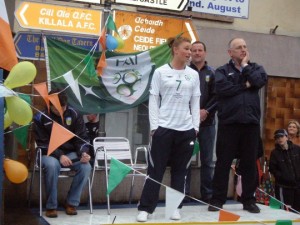 A large gathering was there to welcome home our World Cup star Aileen Gilroy when she arrived in town on Sunday evening. The home coming was organised by Killala FC and it was great to see such a gathering of club mates, team mates, family & friends turn up to congratulate her and her family on her magnificent acheivements with the Irish team.