Tower Cup
Aidan Fergusons red team ( Below) won the E.F.A.S. Tournament in Killala All weather pitch yesterday when they beat Brendan Ryans blue team 6-1 in the Final. A total of 42 players took part in the festival of football in what turned out to be an enjoyable day. Eamon Knoxs hoops the favourites failed to ignite and ended up with the wooden spoon. Kevin Whyte received the player of the tournament and Jim Ryan picked up the "Player of the future " award. In a ceremony in the Village Inn afterwards the winners were presented with the Tower cup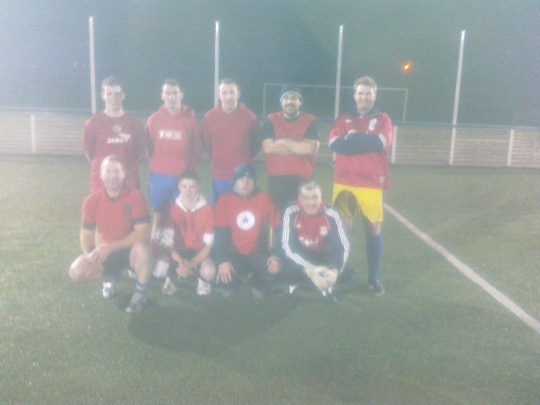 29/12/09
The Legend returns
Former Killala FC keeper the legendary Paul Hennigan makes a rare return to his old stamping ground when he plays in todays E.F.A.S Cup at Courthouse street. Paul , who by his own admittance, was by far the best player to turn out for the club over the last 30 years , tips his team to lift the Tower Cup after todays final . He will be available over the next couple of days for any one who wants to take him for a drink and avail of his experiences and advice.
22/12/09
Christmas Lotto Draw
The Lotto has now reached €2300 and the lucky four hamper winners in the Christmas draw were Elaine O'Neill, Keiran Ward, Gary Ferguson and Dennis Francis. The Lotto committee would like to thank all the weekly lotto players and the online lotto players and wish them a Happy and Peacefull Christmas and success in 2010
21/12/09
Teams picked for the E.F.A.S Cup
The teams have been announced for the inaugural E.F.A.S Cup competition . On Tuesday next the 29th starting at 2pm all the current junior squad will be joined by former greats of yesteryear to battle it out for the prestigous and legendary Tower Cup which was first played for back in the summer of 1975 and is much loved by all soccer fans. The place to be next Tuesday is the Killala FC All Weather pitch for top class entertainment. Fixture times will be posted at a later date.
E.F.A.S. Cup Team Details
Celtic Colours
Blue
White
Eamon (knoxy) Knox (C)
Brendan (ryno) Ryan (C)
Micheal Noone (C)
Danny (fingers) Gallagher (GK)
Martin(hands) Flannery (GK)
Sean (jack) Mc Hale (GK)
Rory (giggsy) Gallagher
John (speedy) Clarke
Kevin (moves) Murray
Ronnie (ronaldo) Mc Hale
Paul (the grudge) Judge
Johnny (left peg) Cuffe
Peter (tunes) Mc Donnell
Alan (murph) Murphy
Ian (macca) Mc Nulty
Antony (t-man) Gallagher
John (chats) Hannick
Ollie (dribbler) Clarke
Ronan (the heff) Heffernan
Jason (jinks) Mc Guire
Brendan (bravado)Mc Nulty
George (gorgeous) Munnelly
Ray (razor) Lynn
Shane (didley) Donnelly
Red
Black
Aidan (fergie) Fergusson (C)
Johnny (morocco) Mc Nulty (C)
Paul (the Legend)Hennigan(GK)
Darren (dazzler) Walsh (GK)
Kevin (killer) Whyte
Noel (chirps) Mc Leish
Gerry (bomber) Adams
Peter (buddy) Regan
Richie(red card) Lynn
David (lethal) Lowther ?
Jim (razor ruddock) Ryan
Martin (locks) Mc Loughlin
David (dancer) Caden
Paul (frostie) Noone
Kenny (costcutter)Sheridan
Mark (magic) Mc Donnell
David (Gaz) Alexander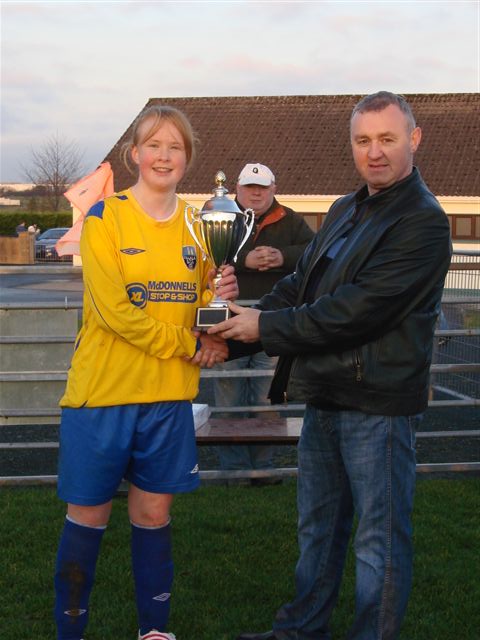 Elaine Lowther Captain Killala U16 Girls team receiving the Mayo U16 girls cup from Christy Rowland of the Mayo Schoolboys and Schoolgirls Assoc. Football league
14/12/09
Girls bring home more siverware
The U16 girls ended the season on a high capturing the Mayo U16 Girls Cup at Milebush Park on Saturday. They defeated Manulla 3-0 to add another trophy to their ever growing haul of silverware. This season alone they have captured the U16 Girls Premier Division title, The Mayo U16 Girls Cup, the Connaught Schools U16 A Title and the FAIS Umbro U16 Girls A All Ireland title as well as reaching the WFAI Umbro u16 girls final. Congratulations to them on a wonderful season. ……U16 Cup Final report here
CHAMPIONS! Killala U16 Girls with the Cup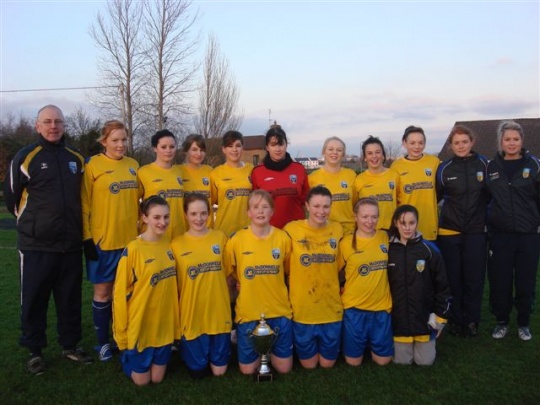 13/12/09
U13 Boys exit Cup
The U13 boys crashed out of the SFAI cup as the went down to a 5-0 defeat from Colga who travelled from Galway last Sat. Tony Browne would also like to remind all U12 & U13 players that this Thursdays training session is the last session before Christmas and training will resume Thurs 7th of January.
11/12/09
Cup Final fixed for Milebush Park
It has been confirmed this morning that the U16 Girls Cup Final will be played in Milebush Park this Saturday 12th December at 2.00pm. Come along and support the girls. We wish them good luck.
09/12/09
U16 Girls Cup Final
The Girls finally get a chance to to pull the curtain down on a long hard season when they face holders Manulla Fc this Saturday in Castlebar ( 2pm KO ) in the Mayo Road Safety Cup Final . The venue has yet to be decided due to the poor weather conditions but take a break from your Christmas shopping to give the girls your support.
08/12/09
Fixtures for the coming weekend
Sat. 12th Dec U16 Girls Cup Final 2.00pm KO Venue TBC
Sat. 12th U13 Boys V Colga FC ( Galway ) Home 2.00pm KO SFAI Cup Rd2
04/12/09
Christmas Hamper give away
There will be 4 Christmas Hampers given away in the Christmas Lotto draw on the 21st December as a special thank you to all our lotto players from the Lotto Committee.
03/12/09
Coming to a close
There are no games fixed for this weekend involving teams from Killala FC. With the U12 & U14 boys still invoved in the Connaught shield , the U13 boys in the SFAI cup and the U16 girls with just the cup final to play the curtain is coming slowly down on the 2009 season.
02/12/09
Girls get Irish trial call up
Good luck to Killala FC players Aoillean Collins & Eilish Healy who have been selected for trials for the Irish Schools U15 team which will be held in Portlaoise on the 28th December. Both girls figured prominently in the recent Schools Interprovincials in Athlone.
27/11/09
SFAI Cup match off
The U13 Cup match fixed for Saturday against Colga FC ( Galway) has been postponed due to the flooding in Galway.
26/11/09
On International duty
Killala U16 Girls player Aileen Gilroy has joined the U17 Irish squad in Dublin for tonights U17 Ladies friendly clash with England. Aileen will be hoping to add to her ever growing number of International caps. We wish her good luck.
24/11/09
Training Cancelled
U12 Boys training for tonight Tuesday the 24th November is cancelled due to the worsening weather.
24/11/09
This weekends fixtures
Sat. 28th Nov U13 Boys V Colga FC ( Galway) Home KO 1.00pm SFAI Cup RD 2
20/11/09
ALL GAMES OFF
All games in Mayo, Sligo, Galway, Roscommon and Longford have been postponed this weekend due to the worsening weather conditions.
17/11/09
U16 Girls Cup Final this Weekend
The U16 Girls are back in Milebush Park this Saturday at 2pm when they face old rivals Manulla in the Mayo Road Safety Cup Final. The Killala Girls will be hoping to add this trophy to their immpresive haul but Manulla will have different ideas. We wish them well.
17/11/09
Fixtures for the week
Sat.21st U16 Girls Cup Final Milebush Park KO 2pm Killala V Manulla
Sat.21st Nov. Home U16 Boys V Barna Utd ( Galway) 2.00pm KO Connaught Shiels Rd1
16/11/09
Defeated on last day
The Mens team completed their league programme with a 1-0 reversal away to relegation haunted Knock/Kiltimagh Utd on Sunday. The sixth place finish was a poor return from a promising season in which they managed to capture the divisional cup. …read more
12/11/09
This Weekends Matches
Sat.14th Sept. U13 Boys V Colga FC ( Galway) Home KO 12 noon
Sun.15th Mens team V Knock/Kiltimagh Utd Away KO 12 noon
10/11/09
Mens team wrap up at home on a high
In their final home fixture of the season Killala stopped promotion chasers Clew bay Utd in their tracks with a fine 3-1 win at Asahi Park..read more
09/11/09
U14 Boys out of the SFAI Cup
The U14 boys made the long haul to Castlepollard in Westmeath where they took on the local side eventually losing 5-2 in a cracking match. report to follow
08/011/09
Killala Girls through to another Cup Final
The U16 girls had an easy 11-1 win over Westport Utd in Killala on Sunday to reach the Mayo Road Safety u16 girls Cup Final..read more
03/11/09
Fixtures for the coming weekend
Sunday 8th Nov. Mens team V Clew Bay Utd Home ( Div.1 ) 11 am KO
Sunday 8th Nov. U16 girls Cup Semi Final V Westport Utd Home 2.00pm
Sunday 8th Nov. U14 boys V Castlepollard Utd ( Westmeath) Away 2pm KO SFAI U14 Cup . Bus Leaves at 10.45am
01/11/09
Mens team go out after penalty shootout
Renmore 2 Killala 2 AET Renmore win 4-3 on penalties in the Connaught Cup played in Galway on Saturday…read more
31/10/09
U14 boys have big win in Sligo
The U14 boys also advanced in the Connaught shield by beating Sligo side Western Rovers 7-1 in Skreen on Saturday…read more
31/10/09
U12 Boys advance
The U12 boys had a good 7-1 win over Snugboro Utd in the Connaught Shield at Courthouse St on Saturday …read more
24/10/09
U16 girls back to doing what they are best at
The U16 girls were back on the winning trail at Courthouse St today in their first game since losing the WFAI cup final last month when they comprehensivly defeated old rivals Ballina Town… read more
24/10/09
U12 boys KNOCK ed out of SFAI U12 Cup
The boys were beaten 5-0 by Knock/Kiltimagh Utd in the first round of the SFAI U12 cup in terrible conditions at Courthouse St today
20/10/09
Fixtures for the week
Saturday 24th Oct. U16 girls V Ballina Town ( Premier League) Home 12noon KO
Saturday 24th Oct. U12 Boys V Knock/Kiltimagh Utd ( SFAI Cup Rd 1 ) Home 2.00pm KO
20/10/09
In Connaught Squad
Best of luck to Aoilean Collins and Ailish Healy of St. Patricks College, Lacken Cross and play for Killala U14 & U16 teams, who have been named in the Connaught Schools Squad to play at the FAIS interprovencials in Athlone on the 6th November.
19/10/09
Emerging Talent Call ups
Congratulations to Killala FC players Darragh O Boyle ( U13 )Shane McAndrew ( U12 )and Emma Munnelly (U11 ) who have been selected to partake in the FAI Mayo region Emerging Talent programme for their age group for the 2009/2010 season .
14/10/09
Fixtures for the coming week
Sat.17th Oct U13 Boys V Westport Away KO 12.00 Bus leaves 10.15am
Sat 17th Oct U16 Girls Cup V Ballinrobe Away KO 2pm Bus leaves 12.15pm OFF Ballinrobe conceeded
Sun.18th Mens Connaught Cup Rd2 V Renmore( Galway ) Away KO 2pm OFF due to mixup of fixture date
11/10/09
First International goal for Aileen
Aileen Gilroy notched up the first of what we hope will be many international goals when she scored the third in a 3-0 win aginst Turkey today as she helped the Republic of Ireland go top of the group.…..read more
11/10/09
Big Win for Mens team
The mens team came out on top in the relegation battle played at Courthose St. on Sunday. Goals from Rory Gallagher and Peter McDonnell gave them the 3 valuable points against Inver Utd…..read more
10/09/09
Ladies season completed
The Ladies team finished off their season with a 2-1 loss at Courthouse St on Sunday. Despite fielding without 6 regular players they still managed to keep Manulla waiting until the final minutes to claim the winnng goal.
10/10/09
U13s Boys Match Off
U13 boys match that was due to take place today at 12pm away to Conn Rangers is off as Conn Rangers could not field a team
Big game at Courthouse St.
Its make or break time at Courthouse St. this Sunday when the mens team face Inver Utd in a must win division 1 fixture. Killala need to win to pull away from the relegation zone and with only two games left after this, now is the time. KO is at 2.30pm
09/10/09
Match of the Day
Congratulations to Killala FC Child protection officer and elected Member of Mayo County Council Jarlath Munnelly and his new wife Sandra who were married today. Best wishes from all at the club
08/10/09
On International duty
While all eyes will be on Croke Park following the fortunes of the Senior International team, Killala FC u16 player Aileen Gilroy will be focused on her own qualifying task as she is out in Slovenia with the Irish U17 ladies where they play in a qualifying group for the 2010 European Championships. Slovenia (10th Oct ) Turkey (12th Oct ) and Denmark ( 15th Oct ) provide the opposition in the mini group. All at the club wish her well…read more
07/10/09
Mens team out of FAI junior cup
The Mens team bowed out of the FAI junior cup on Sunday in Swinford when they were unlucky to go out to the local Premier Division high flyers 1-0….read more
06/10/09
Defib Update (The final one !!)
The final chapter on our defib appeal was realized this week when we were presented with our defib and storage unit. Ivan Sweeney accepted the unit on behalf of the Club from Patricia Kiernan from Cardiac Services who are the suppilers of the units (Pictured Below), While we hope we never have to use this potential life saving piece of eqiupment it is a great piece of mind to know that it is now at hand should the need arise.
This trip started back in April of this year when our club in conjunction with Mid West Radio and C&C Cellullar launched an appeal to collect 500 old mobile phones which could be exchanged for a Defib, we comfortably reached this total in May with the support of our local community, the next phase of the journey was completed in Sept this year when 6 members of the club succesfully completed there training and are now certified users of Defib units and the final chapter as metioned was the delivery of the unit this week.
We would again like to say to all involved in the appeal, Sponsors, trainers, collectors and all who donated, Thank you for your support!!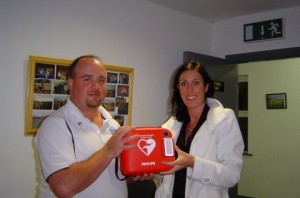 05/10/09
U14 & U12 Boys Exit Connaught Cup at first hurdle
The U12 boys were beaten 8-1 by a much stronger Ballyglass outfit at Courthouse St on Saturday while the U14 lads went down to Straide and Foxford in a thriller 4-3 AET at the same venue … read more
28/09/09
Fixtures for the coming week
Sat 3rd Oct. Connaught Cup RD 1 U12 boys V Ballyglass Home 1.30 pm KO
Sat 3rd Oct Connaught Cup Rd 1 U14 Boys V Straide & Foxford Utd Home 3.00pm KO
Sat 3rd Oct Connaught Cup Rd 1 U16 Boys V Achill Rovers Away 2.00pm KO Bus leaves at 12 (Cancelled)
Sunday 4th Oct FAI Junior Cup rd 1 Mens Team V Swinford Away 2.00pm KO
28/09/09
FAI Emerging Talent
Congratulations to Darragh O Boyle on being called into the Mayo section of the FAI Emerging talent programme for 2009/2010 . Darragh who plays for the U13,U14 and U16 Killala sides starts the programme this Thursday night in Castlebar.
26/09/09
All Matches off
All Mayo League matches at Junior, Ladies and Schoolboys & Youths have been postponed as a mark of respect to the late Liam McEntee RIP a member of the Mayo Referee society … read more
24/09/09
FAI Junior Cup begins
The Largest cup competion in Europe kicks off in Mayo this weekend. Killala are drawn against Premier division promotion chasers and Chadwick Cup Finalists Swinford FC in Cloonboy on Sunday at 2.00pm in what will be a tough test for the lads. Good luck to Mark & Kenny and all the lads
22/09/09
Fixtures for the coming week
Sat 26th U13 Boys V Conn Rangers 12noon Away Bus leaves at 11am
Sunday 27th Mens team V Swinford FC Away 2.00pm FAI Junior Cup Rd 1
21/09/09
Killala FC Lotto won again
Congratulations to Niall O'Donnell on winning €1700 in the Club lotto on Monday night ……. read more
14/09/09
Disappointment for the Girls.
The Killala girls were beaten 3-0 by Stella Marris from Dublin in the WFAI U16 Cup Final yesterday. A large crowd turned out at celtic park on a sunny afternoon to support the team and acclaim their magnificent achievement on reaching a national final….read more
11/09/09
Killala U14 Boys presented with shield
The U14 boys finaly got there hands on their silverware as they were presenented with their shield tonight by Christy Rowland from the Mayo league congratulations again to all the U14 Players and Coaches.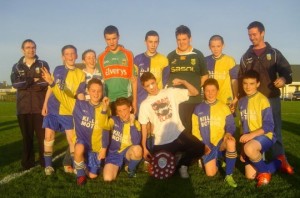 Lets hope this is only the first piece of silverware to be presented this week!! Good luck to all the U16 Girls, Ciara McDonnell their Coach and backroom staff Peter McDonnell from all the coaches, players and committee members at Killala AFC.
10/09/09
Supporters Bus For Cup Final
Donnellys bus will leave from outside the Arch Bar on Sunday at 1.30pm. €5 for children and €10 for adults . Admission to the match in Celtic Park is€5 ,children free.
09/09/09
Aileen all set for Italian job
Killala U16 player Aileen Gilroy set out for to Dublin today to take her place in the Irish international U17 Squad to face Italy on Thursday and Saturday….read more
08/09/09
CHAMPIONS AGAIN!
The Girls U16 team wrapped up the Premier division title for the second successive season when they beat Kilmore 11-0 tonight at Courthouse St. for their eigth straight win in the league .Goals fromEileen Collins,(7) Alanna Naughton (2) Karen Lawlor and Rachel Healy gave the girls the points and was the perfect warm up for the WFAI U16 Cup Final on Sunday….read more
07/09/09
U16 Boys sign off with a win
The U16 boys team deafeated Claremorriss B 3-2 Away from home on Monday night to give Brian McHale and his assistant Aidan Sweeney a win in their final league match of the season…..read more
07/09/09
Fixtures for the coming week
Mon.7th Sept U16 Boys Away to Claremorris 6.30 KO Bus leaves 5pm
Tuesday 8th Sept. U16 Girls Home to Kilmore FC 6.30pm KO
Friday 11th Sept U13 Boys Home to Iorras Aonthaithe 6.30pm KO
Sunday 13th Sept U16 Girls WFAI Cup Final V Stella Maris FC Celtic Park, Castlebar 3.00pm KO
06/09/09
Mens team snatch a valuable point in Achill
A mens team missing 8 regulars travelled to pace setters Achill Rovers and snatched a point when Peter McDonnell scored when he curled home a wind assisted corner..read more
06/09/09
Ladies come out worst in 9 goal thriller
The Killala ladies went down 5-4 in the Texoil cup quarter Final to Castlebar Celtic at Celtic Park today despite twice taking the lead…read more
05/09/09
Aileen Gilroy included in the U17 Irish Squad
Congrats to Ailleen Gilroy who has been named in the Ireland U17 Squad for matches in Dublin against Italy next Thursday and Saturday as they contine their prepatations for the 2010 UEFA Championships. All at the club wish her well.
04/09/09
Defib Update
A defibrillater users course was run this Thurs evening at our Clubhouse.The course covered CPR, defib operation and how to stop choking. 6 members of our club attended and successfully completed this American Heart foundation accerdited course, the course was delivered by Siobhan Henry of the Civil Defence. All participants agreed that while they hope they never have to use their training in a real life situation, if the need arises, then the skills they learned on the course could make a difference and save a life.
Congratulations to all participants on achieving there certification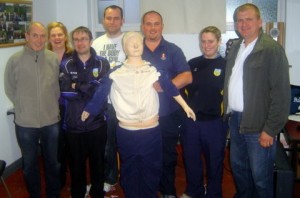 pictured L/R Joe O'Neill, Sioban Henry (Instructor) Aidan Sweeney, Tony Browne, Resusci Annie, Ivan Sweeney, Karen Webb, Dessie O'Boyle
We are expecting delivery of our new defibrillator in a week or so, so watch out for the next update.
02/09/09
U16 Girls go 5 points clear
The Killala girls extended their lead at the top of the Premier division when beating second place Ballyvarry Blue Bombers 7-1 at Ballyvarry last night. With only 3 games remaining and all at home it's looking good for the girls.….read more
30/08/09
U13 Boys fixture announced
The U13 Boys league kicks off this Friday in Manulla with a 6.30 pm KO . We wish Tony Browne and Jonny Cuffe and the boys all the best for the campaign. All the fixtures can be seen …here
30/08/09
Fixtures for the coming Week
Monday 31st U16 Boys V Snugboro Home 6.30pm
Tuesday 1st Sept U16 Girls V Ballyvarry Away 6.30pm Bus Leaves @ 5pm
Friday 4th Sept U13 Boys V Manulla Away 6.30pm Bus Leaves 5pm
Sun.6th Ladies V Castlebar Celtic Away 12noon ( Texoil Cup Quarter Final )
Sun 6th Men V Achill Rovers Away 3.00pm
30/08/09
Mens Team sucked into relegation battle
A 3-0 loss at the hands of Mulranny Utd at Courthouse St. today has plunged Killala into a potential relagation dogfight with only 4 games to go…more
24/08/09
U14 Girls get chance to shine
The U14 Girls get their chance for a place in the spotlight when they play premier division leaders Ballyvarry Blue Bombers in the U14 Girls Cup Semi Final in Thursday night. We Ciara & Elaine and all the girls the best of luck.
23/08/09
U16 Girls Qualify for WFAI Cup Final
Killala girls had a magnificent 5-2 win over a very talented and competitive Wilton Utd FC side from Cork in Asahi Park on Sunday. The match was switched to the Ballina road venue from Courthouse St.due to the heavy rain that preceeded the Kick off. The weather though did not deter the fans who turned up in large numbers to be entertained to good football despite the conditions.Aoileen Collins (2)Niamh Collins (2) and Elaine Lowtherscored the goals to give Killala a place in the All Ireland final